ANTH 3570 Anthropology, Islam & Muslim Societies
ANTH 4130 6.0 The Professional Anthropologist: Work-Study Placement
ANTH 3380 3.0 The Everyday Politics of Rage: Anthropological perspectives on Populism
ANTH 2210 Advocate and Educate for Change: Applying Anthropology
Anthropology, Islam & Muslim Societies (ANTH 3570)
Anthropology, Islam & Muslim Societies (ANTH 3570) Poster (PDF)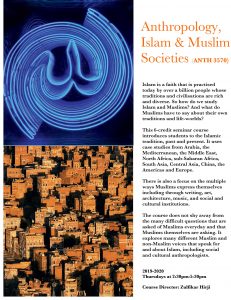 Islam is a faith that is practised today by over a billion people whose traditions and civilisations are rich and diverse. So how do we study Islam and Muslims? And what do Muslims have to say about their own traditions and life-worlds?
This 6-credit seminar course introduces students to the Islamic tradition, past and present. It uses case studies from Arabia, the Mediterranean, the Middle East, North Africa, sub-Saharan Africa, South Asia, Central Asia, China, the Americas and Europe.
There is also a focus on the multiple ways Muslims express themselves including through writing, art, architecture, music, and social and cultural institutions.
The course does not shy away from the many difficult questions that are asked of Muslims everyday and that Muslims themselves are asking. It explores many different Muslim and non-Muslim voices that speak for and about Islam, including social and cultural anthropologists.
2019-2020
Thursdays at 2:30pm-5-30pm
Course Director: Zulfikar Hirji
---
ANTH 4130 6.0 The Professional Anthropologist: Work-Study Placement
4130 6.0 The Professional Anthropologist: The Anthropologist as Practitioner (PDF)
Would you like to apply your anthropological skills and gain academic credit?
If so, then the fourth year ANTH 4130 6.0 The Professional Anthropologist: Work-Study Placement course is for you.
This year-long course offers you the opportunity to conduct research and/or volunteer with a range of host organizations such as NGOs, hospitals, immigration agencies, homeless shelters, corporations and other service organizations that are approved by the department of Anthropology.
You will engage in experiential learning and community-engaged research under the guidance of a course director. You are required to identify issues that you intend to explore during your placement before starting the experiential learning opportunity.
The placement must include at least 100 hours of work or volunteer activities over the academic year.
Assessment will include:
weekly communication via the blog site (shared journaling);
a research paper;
a final community report.
Registration for this course requires the permission of the instructor and an approved placement site. Spots will be reserved for students who are enrolled in the Advocacy and Public Engagement Minor or Certificate program. An open interview will be conducted before Fall online registration begins. This course is restricted to third and fourth-year Anthropology students who have completed ANTH 3110 6.0.
Please contact the Anthropology Department Chair for registration details: chranth@yorku.ca.
---
ANTH 3380 3.0 The Everyday Politics of Rage: Anthropological perspectives on Populism
ANTH 3380 Course Description (PDF)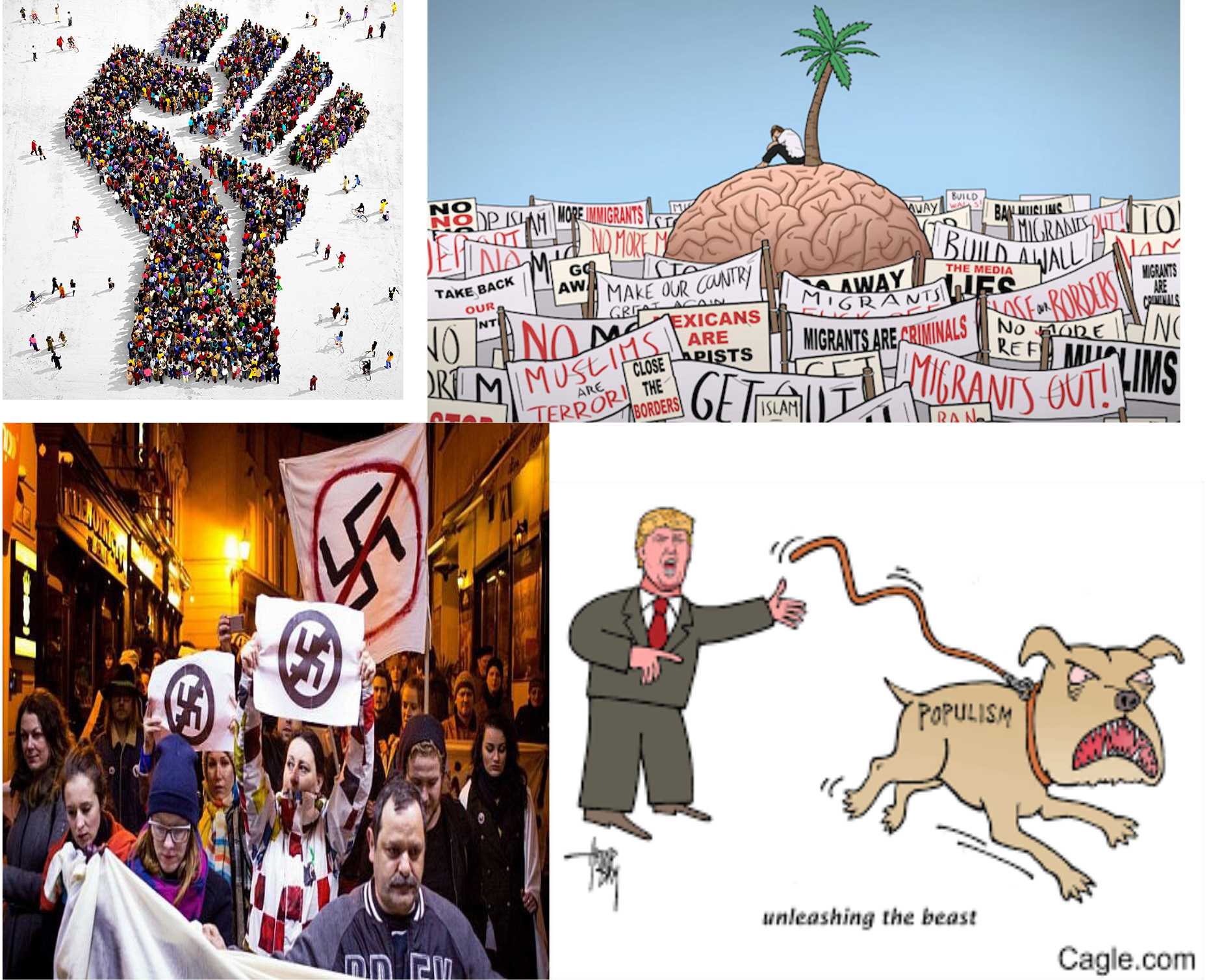 The focus of this course is populism, a concept that has generated a great deal of discussion and debate in media, academic circles and in everyday conversation. It has been used to describe authoritarian populist leaders including Trump in the U.S., Erdogan in Turkey, and radical right wing political parties such as Pegida in Germany, as well as white nationalism and anti-immigration movements. But the adjective "populist" is also applied to anti-capitalist, anarchist, counter-cultural and social justice movements like Occupy and Black Lives Matter, The rise of what is referred to the 'extreme right' or alt-right', 'alt-left' and the 'f-word'- fascism, requires careful analysis. There are many explanations for the rise in populism – globalization and the widening gap in wealth, the impacts of climate change, war and conflict, dislocation and uncertainty. Our first goal is to understand the conditions that give rise to the emergence of populist movements. A second goal is to unpack the complex relationships between the rise of populism and the socio-political processes that are at their core. We use an anthropological lens - conceptually and ethnographically - to investigate the appeal of these movements to people who mobilize, vote for, protest and agitate for social, political and economic goals.
---
ANTH 2210 Advocate and Educate for Change: Applying Anthropology
ANTH2210 Course Description (PDF)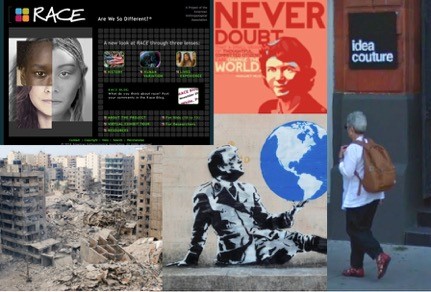 Advocacy and public engagement examines how to take the methods and insights of scholarship outside the walls of colleges and universities. Anthropologists and other publicly engaged scholars choose to work on problems and issues of concern to citizens and communities, most often in collaboration with others. This course explores the challenges of different roles of advocacy, activism, and collaboration. Numerous examples are examined, including the engagements of scholars who have worked internationally, in their own neighbourhoods, and with a range of organizations from small community groups to trans-national networks and international bodies. A second aspect of the course explores the history and practice of public and applied research in anthropology, and how anthropologists have advocated, resisted and engaged with topics such as war, racism, colonialism and healthcare. A third aspects of the course involves developing skills useful for public engagement and media outreach including increasing your collaboration proficiencies, creating effective and concise messaging strategies, and acquiring confidence in media interviews.
Experiential learning and skills training are active components of the course incorporated into individual and group projects on current topics. Students hear from anthropologists who practice advocacy and public engagement or visit them in the field. In 2017-2018, students visited Idea Couture, a digital innovation and design firm that prominently employs anthropologists in the designing of products, services and business models. Students also participated in the Community Action online project that draws together thousands of students at North American universities together into an intellectual community to engage with a contemporary cultural issue.
This full-year course can be taken as a complement to your program, or as a required course for a minor or certificate in advocacy and public engagement.