Work with International Aid Organizations…
The Anthropology of Development provides students with a multi-layered and critical understanding of the complex social and cultural transformations being encouraged by international aid agencies. Our unique commitment is to understanding these processes through the experiences of those targeted for development; our fieldwork based methodology allows for a grounded source of advocacy for those marginalized by globalization.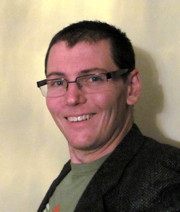 Nelson Ferguson
(PhD 2013, York Anthropology)
Nelson Ferguson is a Phd graduate of the Dept. of Anthropology, York University. He is a Program Manager for Canada World Youth, a Canadian International Development Agency funded non-profit organization that has been promoting youth empowerment and developing educational programs for young people from around the world since 1971.
Nelson is responsible for developing and delivering international internship programs for Canadian universities, connecting students with community development organizations focusing on diverse issues such as food security, education, and human rights.
As he reports, anthropology has been pivotable in preparing him for his current career path: "In the non-profit industry, you need to be flexible, adaptable, and resourceful. My background in anthropology has proven invaluable, enabling me with a broad skill set such as a firm grounding in issues of international development, the analytical skills needed for program and project evaluation, and the cross-cultural communication skills to forge international partnerships. And best of all, now I am able to help youth and young adults gain the skills needed to critically engage with the world we live in!"
Students interested in exploring international internship opportunities can contact Nelson directly at nferguson@cwy-jcm.org.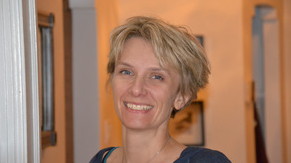 Joanne Lebert
(MA York 1999)
Joanne Lebert is the Director of the Great Lakes Programme at Partnership Africa Canada where she and her team work to support the efforts of the 11 Member States of the International Conference on the Great Lakes Region to establish a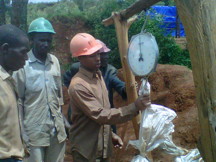 traceability and certification mechanism for the region's four'conflict minerals': tin, tantalum, tungsten and gold. Her works involves extensive negotiation and engagement with a variety of stakeholders at the local, national, and international level, including the OECD, the US Department of State, Global Witness, Enough and industry end-users such as Motorola, Hp, Intel and RIM. She consults and works closely with local civil society organizations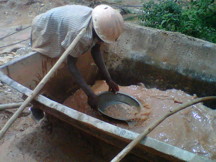 throughout the region to track mineral flows within and across countries, to promote revenue transparency in their respective countries andto act as whistleblowers. She is currently conducting research on women, girls and the mining economy in Eastern DRC and, in keeping with UN Security Council Resolutions related to Women, Peace and Security, endeavours to better integrate the needs and lived experiences of women and girls in traceability and certification efforts, and to support their full participation and leadership in the area of resource governance and peace building.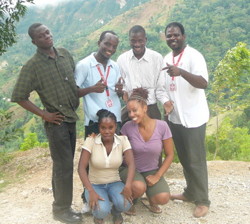 Serena Thomas
(MA York, 2008)
Since March 2010, Serena has been coordinating a psychosocial clinic with Johanniter International in Leogane, Haiti. The clinic offers individual, group and home visit counseling sessions to clients who suffer from severe trauma and grief symptoms. This clinic aims to create a 'transitional space' which which brings together many cultural, spiritual and psychological interpretations and treatment strategies to their therapeutic work. Prior to Haiti, Serena's work included crisis counseling, community based programming, and research on therapeutic community spaces in Toronto, Paris and South Africa.
A  minor or double major in Anthropology and International Development Studies can prepare you for a career working in governmental and non-governmental aid agencies. If this career path appeals to you, we suggest the following courses as part of either a honours double major (36 credits), or a minor (30 credits).
Core (12 credits):
AN 1110 6.0 Introduction to Social Anthropology
AN 2100 6.0 Power, Politics & Development
Further Electives (by IDS Area):
Culture:
AN 2120 6.0 Visualizing Ourselves, Visualizing Others: Media, Representation and Culture
AN 3020 6.0 Race, Racism and Popular Culture
AN 3030 3.0 Discourses of Colonialism
AN 3370 6.0 Power and Violence: The Making of "Modernity"
AN 3420 6.0 Indigenous Minorities and Human Rights
AN 4180 6.0 Anthropology, Islam and Muslim Societies
AN 4250 6.0 Religious Movements in Global Perspective
Environment:
AN 3190 6.0 Nutritional Anthropology: Food and Eating in Cross Cultural Perspective
AN 3200 3.0 The Anthropology of International Health
AN 4240 3.0 Nature, Politics, Difference
AN 4450 3.0 Anthropology of the City
Gender:
AN 3010 6.0 Gender, Place and the Cultural Politics of Development
AN 3120 6.0 Anthropology of Tourism
AN 3230 6.0 Women, Culture and Society
Political Economy:
AN 3220 6.0 Greed, Globalization & the Gift: The Culture(s) of Capitalism
AN 4420 3.0 The Anthropology of Gender & War 
Politics, Governance & Policy
AN 3400 6.0 Altering States: Civil Society & Citizenship in a Globalizing World
AN 4340 6.0 Advocacy and Social Movements