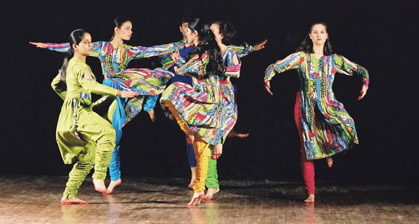 Prof. Zulfikar Hirji
(Assoc. Prof. Anthropology)
has recently worked with the Textile Museum of Canada as a consultant and advisor on 'Magic Squares: The Patterned Imagination of Muslim Africa in Contemporary Culture' (see below) – a multi-sensory exploration of patterns in African Muslim material culture, the intellectual and spiritual dimensions of Islamic thought and learning, and the resonance of this heritage in the works of acclaimed contemporary artists. Hirji is also engaged in the study of Muslim artists such as Tehreema Mitha, a USA based South Asian dancer-choreographer from Pakistan. He has recently filmed, directed and produced 'Pushpanjali', a 25min film of Mitha's studio opening in Bethesda MD which looks at issues of artistic boundaries and belonging (see photo above).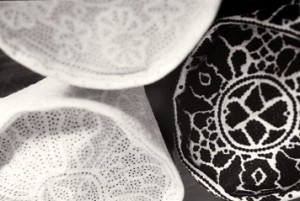 Hirji is also the vice-president of Subtle Technologies – a Toronto-based arts organization that gathers artists, scientists, technologists, engineers and the general public to share cross-disciplinary ideas, explore new technologies, showcase creativity and incubate the next generation of practitioners at the intersection of art, science and technology.
If this career path appeals to you, we suggest the following courses as either a honours double major (36 credits), or a minor (30 credits) with Fine Arts Cultural Studies.
Relevant Degree Core Courses (12 credits):
AN 1110 6.0 Introduction to Social Anthropology
AN 2120 3.0 Visualizing Ourselves, Visualizing Others: Media, Representation & Culture
Electives:
AN 3020 6.0 Race, Racism & Popular Culture
AN 3120 6.0 The Anthropology of Tourism
AN 3350 6.0 Culture as Performance: The Anthropology of the Arts
AN 3560 6.0 Anthropology of the Senses
AN 4220 6.0 The Cultures of the Web
AN 4350 3.0 Perspectives on Visual Anthropology