Anthropology is the comparative study of cultural life and social organization across the globe and throughout time. Explore how people are subjected to, participate in, and contest the processes of living in a world that is interconnected by powerful economic, cultural and technological forces. Gain the tools necessary for the critical analysis of our place in humanity's social and cultural diversity. Our overall goal is to help you become an informed global citizen.
Anthropology is a discipline that equips you with the skills to think analytically and work creatively in an increasingly globalized and complex world. Anthropology can provide a set of research, analytic and writing skills for a variety of jobs where adaptability and flexibility are increasingly demanded to succeed in diverse workplaces. The top 10 in-demand jobs in 2016 did not exist in 2004 - but the skills needed to get those jobs are taught in Anthropology. Our graduates have pursued careers in public policy and advocacy (homelessness, sexuality, racism, refugees, First Nations, Human Rights), as well as in industry, tourism and marketing research. [read more...]
Expand your anthropological education by studying abroad in our iBA (international BA) program, through the York International Internship Program.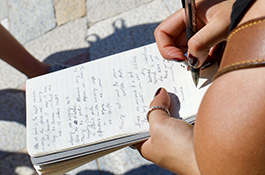 Advocacy & Public Engagement
Advocacy & Public Engagement
Minor/Certificate in Advocacy & Public Engagement
The Department of Anthropology recognizes that many Indigenous nations have longstanding relationships with the territories upon which York University campuses are located that precede the establishment of York University. York University acknowledges its presence on the traditional territory of many Indigenous Nations. The area known as Tkaronto has been care taken by the Anishinabek Nation, the Haudenosaunee Confederacy, the Huron-Wendat, and the Métis. It is now home to many Indigenous Peoples. We acknowledge the current treaty holders, the Mississaugas of the New Credit First Nation. This territory is subject of the Dish With One Spoon Wampum Belt Covenant, an agreement to peaceably share and care for the Great Lakes region.